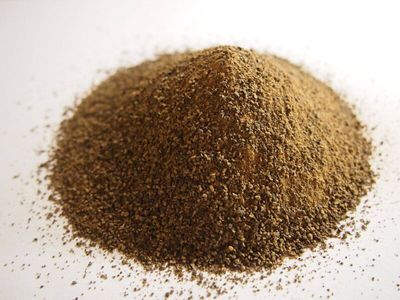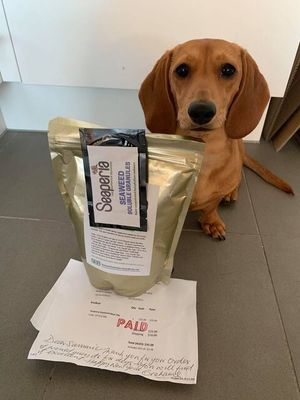 Seaperia Pure Organic Seaweed Meal 1kg
Seaperia
$30.50
Choose your size...
250g is enough for a small dog for around 4 months, or a large dog for 4 to 6 weeks.
1kg is good value and will last a large dog around 4 months.
4.5kg is great value and is best if you have a number of animals or poultry.
25kg is best value for farmers and growers - you can even buy by the pallet.
Go here for rates of use for all animals.
Seaperia Ascophyllum nodosum Seaweed Meal is a fantastic supplement for livestock, dogs, cats, chooks, horses, and even budgies or cockatiels. All living things can experience the seaweed benefits with the trace elements, vitamins, minerals and fibre. Ascophyllum nodosum also contains prebiotics for digestive health, improving microbiome and ensuring your animals are able to gain the best nutrition from their feed.
We have many customers who buy this product regularly for their dog's dental health. If you'd like more information head to this blog we wrote especially for you.
How is our Ascophyllum nodosum so cheap compared to the big brands? Simple... we buy direct and in bulk quantities so we can pass the savings on to you. No middle man, no fancy packaging and marketing... just the highest quality Asco for the best price anywhere.
It is a natural booster for pot plants and garden beds as a mineraliser, soil conditioner and for water holding. Seaperia Meal can be added to composts and worm farms to increase and raise the health of microbes, worms and all your hard-working beneficial micro-life.
Seaperia's Ascophyllum nodosum Seaweed Meal is sustainably harvested from the icy waters off the Norwegian coast, this is 100% pure organic seaweed.
Seaperia Meal has a 3-year best-before date from the processing plant in Norway and our quick turnover means your Seaperia Meal is always fresh. Buy seaweed online today!
Now in our new 100% home compostable pack!
Credit card payments are easy and secure with Stripe, and direct deposit is also available.
$10 flat rate shipping Australia wide - FREE shipping over $150
Click here to go to our FAQs page.
Click here to view or download the Typical Analysis and label.
SKU: 97721/1KG-1